Welcome, now, to Sibelius 6!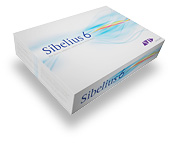 In May 2009, Sibelius released Sibelius 6 - a dramatic upgrade with new features across the whole spectrum of what you can do.
This tour explains the differences in the earlier upgrade to Sibelius 3. All the improvements in these pages are incorporated into Sibelius 5, so users with Sibelius 1.x and 2.x will benefit from them when they upgrade, in addition to the new features and ideas listed in the what's new in Sibelius 5 pages.
What users say
"A giant step forward - achieves the miracle of making everything even better & simpler"
Michael Kummer
conductor & arranger

"Instant gratification - Sibelius got it right again"
Robert Puff
music engraver
Quick links
Take a tour
A comprehensive guide to the new features in Sibelius 3
Highlights
Sibelius 3 incorporates over 200 improvements from the upgrade to Sibelius 2. If you have Sibelius 1.x, see the what's new in Sibelius 2 section for further information.