Sibelius launches new License Server for easier student access to music software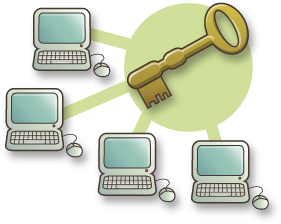 London, UK, 9 January 2008 – Sibelius Software has unveiled a major update to their License Server system, enabling schools and universities to easily move Sibelius music software licenses around their networked computers to offer greater access for students.
A new, non-technical user-interface enables music teachers and assistants – not just ICT coordinators – to easily assign and reassign 'floating' (concurrent) licenses to specific computers in ICT labs or computer-equipped classrooms.
"When schools have made the investment to provide their students with computer labs and network set-ups, we want to help by enabling access to Sibelius for as many students as possible," says Jeremy Silver, Managing Director of Sibelius Software "Our network license server is a simple way to allow the installation of Sibelius 5 on every networked PC and Mac in the school and then easily enabling music teachers to move floating licenses between machines – without having to the pester the ICT coordinator!"
The Sibelius License Server is provided with a multi-user purchase of Sibelius 5 to help schools make the most of their investment in the world's best-selling music notation software.
In addition to benefiting schools, the new Sibelius License Server also helps universities and public libraries manage their Sibelius licenses in the same way. Professional sheet music publishers running multiple copies of Sibelius on a network will also benefit.
For more information on Sibelius multi-user license pricing, click here.
For technical information and requirements, click here.
About Sibelius
Sibelius is the world's market leader in music notation software.
Sibelius was founded in 1993 to sell music notation software, initially for the Acorn computer. Windows and Mac versions were released in 1998/99.
Since then the Sibelius Group has developed 20 additional music products for the professional, educational and home user, ranging from Internet publishing to guitar software.
Sibelius has customers in over 100 countries.
Sibelius is used in 60% of schools in the UK, Australia and New Zealand.
Sibelius is endorsed by the Royal Academy of Music and is used by all the major music academies and colleges: the Royal College of Music, Trinity College of Music, Oxford and Cambridge Universities, the Juilliard School, Berklee School of Music, the Sibelius Academy in Finland, the Royal College of Music in Stockholm.
The world's leading music publishers, including Music Sales, Hal Leonard and Yamaha, use Sibelius.
In 2005, Sibelius was awarded the prestigious Queen's Award for Innovation.
Sibelius was recently acquired by Avid Technology, Inc., the worldwide leaders in digital media editing and creation solutions. Sibelius is part of of Avid's Audio division which also includes Digidesign, producers of Pro Tools, and M-Audio.
Sibelius is headquartered in London, UK, with offices in San Francisco, Adelaide and Tokyo.
8 January 2008
All information correct at time of press release.
For further information please contact Sibelius.